access:Cinema
Lakelands
Laois Connects Movie
Wednesday 11th and Thursday 12th October
Wednesday at 8pm, €8 Full price. €5 Concession

Free for school groups on Thursday at 10:30am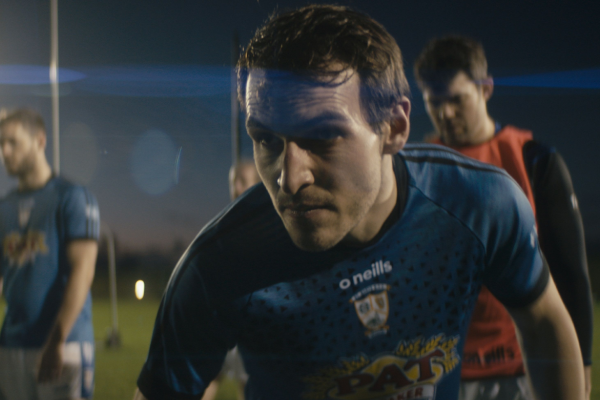 Best Irish Film 2022 at the Galway Film Fleadh
Cian is the captain of his local Gaelic football team – for him and his friends, the sport is a religion. When Cian is attacked on a night out, he brushes off the incident as inconsequential. However before long he is forced to accept that his injuries are more serious and could mean the end of his Gaelic career...
Using the identifiable world of GAA as a backdrop and featuring superb performances from Irish rising stars Éanna Hardwicke and Danielle Galligan, Lakelands explores the masculine culture existing throughout our country, where feelings are seldom shared, and any type of vulnerability is feared as showing weakness.
Directed by Robert Higgins and Patrick McGivney
Starring Éanna Hardwicke, Danielle Galligan, Lorcan Cranitch, Dafhyd Flynn, Gary Lydon
Runs for 100 minutes
Rated 15A
Winner of Best Irish Film, Galway Film Fleadh 2022
Winner of the Bingham Ray New Talent Award 2022
Winner of Best Narrative Feature, Kerry International Film Festival2022
Nominated for 4 2023 IFTAs for Best Film, Lead Actor, Lead Actress, Original Music
Laois Connects Week has been in place since 2013. It is a collaborative group representative of voluntary and statutory agencies committed to promoting an awareness of mental health, physical health, and emotional wellbeing.

The aim of the initiative is to organise and deliver a varied and wide range of interesting events across the county, that seeks to inform and challenge the way people think about and respond to mental health in families, communities and places of work. An additional aim for the initiative is to strive to reduce the stigma often associated with the concept of mental health, so that there is increased acceptance, awareness and willingness to give and receive support at an individual, community and services level.
"

A sensitive exploration of a young man's reckoning with his destiny in rural Ireland, Lakelands initially appears to cover some familiar dramatic ground in a seemingly low stakes narrative, but, in fact, this feels fresh...

"
Fionnuala Halligan, Screen International