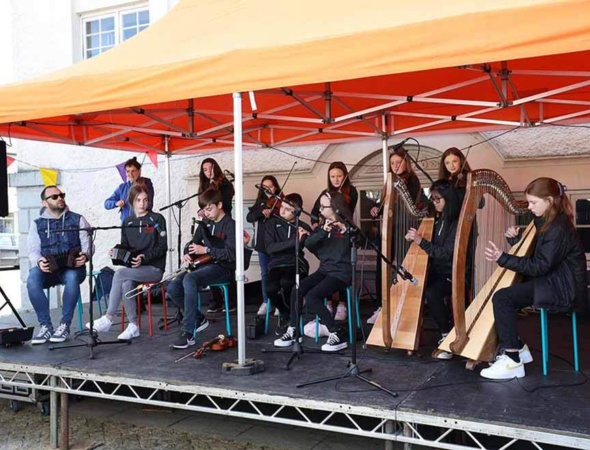 Networks and Partnerships
We collaborate with a number of professional networks and partners to ensure we bring the very best opportunities to Dunamaise artists and audiences.
NASC
Dunamaise Arts Centre is a member of the NASC venues network, with Backstage Theatre, Longford; glór, Ennis; An Grianán, Letterkenny Lime Tree Theatre, Limerick; Pavilion Theatre, Dún Laoghaire; Siamsa Tíre, Tralee and Town Hall Theatre, Galway.

Collaborating since 2006 to tour outstanding, critically acclaimed and award-winning performances from some of the most revered professional touring companies in Ireland including the likes of Druid, The Gate Theatre, Teac Damsa and Fishamble the New Play Company, to name but a few.
Theatre Forum
As a member of Theatre Forum, we are working alongside fellow venues nationwide, production companies and a wide circle of performing artists to help strengthen Ireland's performing arts community, and to advance its interests to ensure a sustainable future. Participation in professional development training, collective lobbying and collegial support are all of huge benefit to the Dunamaise team and all we do here to further our collective goals.

Laois County Council

We are delighted to regularly work in partnership with many departments in Laois County Council including the Arts Office, Creative Laois, Heritage Office and Laois Libraries, among others. These positive collaborations have developed many wonderful exhibitions, conferences, performances and outreach programmes connecting artists and communities all across our county.
Creative Laois
The over-arching theme of the Creative Communities programme in Laois is "Sense of Place". Dunamaise collaborates regularly with Creative Laois on their ambitious programme, working to create a county in which culture and creativity are recognised as integral to life, with opportunities for all to become involved as initiators and innovators as well as participants and audiences.

Working with Creative Ireland at national level, the Laois Culture Team is committed to the vision that every person in Ireland should have the opportunity to realise their full creative potential. This culture and wellbeing programme creates pathways and opportunities to inspire, transform and connect people, places and communities through creativity. The Programme is built around key themes: Creative Youth, Creative Communities, Creative Places, Creative Nation.
Music Generation Laois and Laois School of Music
Our neighbours in the Cultural Quarter of Portlaoise and regular collaborators on concerts and outreach programming. Music Generation Laois and LSM offer Music education programmes to children & adults of all ages across pop, rock, classical, traditional and world music, in schools, childcare settings, youth projects and with community groups. Often engaging top musicians and composers to create new works with their bands, orchestras & ensembles, their musicians of all ages have national and international performance experience and regularly raise the roof off Dunamaise!
As a member of this voluntary committee made up of town centre business owners, we work on connecting local businesses, helping to secure jobs and promote shopping local. Our work enhances Portlaoise Town Centre aesthetically and economically, securing funding and investments for projects as well as developing Festivals and Events.
Laois Chamber Alliance
Laois Chamber Alliance is a business organisation in Laois facilitates and encourages engagement with all stakeholders, leading to job creation and sustainable economic growth in the county.
Access>CINEMA
We are very grateful for our partnership with access>CINEMA, a resource organisation for regional cultural cinema exhibition in Ireland. Their mission is to provide all audiences throughout Ireland with access to the best of Irish, world and independent cinema, via their national network of non-profit and voluntary organisations.

Their purpose; which in turn is reflected in our film programming; is to deliver a diverse range of quality cinema, that is not available on commercial cinema screens, to local Irish audiences. Their advice, expertise and support for cultural film programming and technical presentation is invaluable as they support and present the work of Irish filmmakers; and to grow, develop and promote opportunities to expand access to and participation with cultural cinema exhibition regionally.
IFI – Irish Film Institute
IFI Education promotes film education, film culture and media literacy with all our audiences through a range of programmes, initiatives and across different platforms. 

Central to their work is the IFI Schools programme for primary and secondary school students and Dunamaise Arts Centre is delighted to partner with them to provide access to cultural and foreign langugage films for our local schools. Films screenings are usually supported with an education pack provided by IFI, which can be valuable in assisting students with their curriculum assessments.
Invitation to Partner with Us

We welcome opportunities for partnerships with other local arts organisations, charities and businesses. Partner with us to better connect with our cultural community; we all share an appetite for quality arts and entertainment provision for our whole community and love to support local organisations and businesses who show they care!