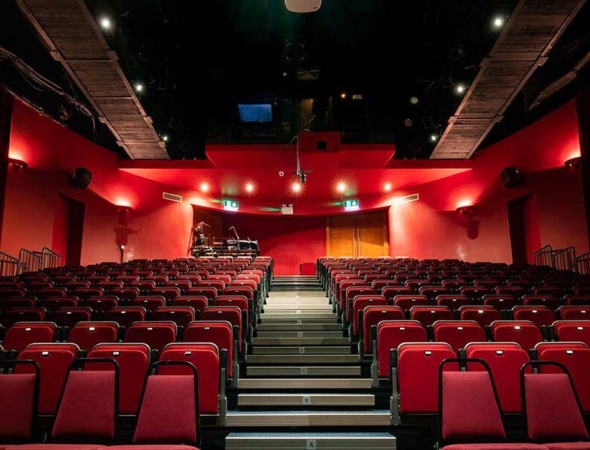 Vision
A centre of excellence for creative engagement, practice, programming and production in the Midlands region, engaging artists and audiences through delivery of high-quality programmes and experiences, to support practice development, participation, engagement and access to the arts for all.
– Dunamaise Arts Centre Strategic Development Plan 2021-2025
History
Dunamaise Arts Centre is situated in the heart of the Midlands town of Portlaoise. Established in 1999 by Laois County Council in response to local demand for arts and cultural infrastructure and provision, and under the ownership of the local authority, Dunamaise is a multidisciplinary arts space and a centre of excellence for arts development, support, engagement and participation, serving the people of the Midlands region and primarily those in County Laois.

Our town centre venue comprises a theatre, cinema, gallery, bar and café space. Over our 24 year history, Dunamaise has engaged local and regional artists, working closely with the local authority Arts Office to deliver a multifaceted programme of arts practice across performing and visual arts. We are a member of the NASC Network supporting high quality regional touring theatre across Ireland. Dunamaise is funded by Laois County Council and the Arts Council of Ireland / An Comhairle Ealaíon.
We have welcomed some of the most revered performing and visual artists in the world such as Druid, The Abbey Theatre, The Gate Theatre, Fishamble, The New Play Company, the RTE Symphony and Concert Orchestras to Robert Ballagh, Dermot Seymour, Bernadette Madden and Ulrich Vögl.

We were also proud to have been able to treat audiences to performances by The Chieftains, Professor Peter O'Brien, Christy Moore, The Harlem Gospel Choir, Sharon Shannon, Paul Brady, Jack l, Josh Ritter, Martin Hayes & Dennis Cahill and so much more.

The work of internationally renowned Michael Keegan-Dolan in Teac Damsa's Mám was a recent spectacle for us and joined our portfolio of prestigious dance companies performing under our banner alongside the likes of Ballet Ireland, Liz Roche Dance Company (previously Rex Levitates) and The Independent Ballet Wales to name a few.

We are also delighted to present a very strong programme of Irish and international Cultural films, many of which are award-winning, in conjunction with Access Cinema and the Irish Film Institute with whom we work in partnership.
We also pride ourselves in having welcomed local artists and groups such as Laois Open Door Theatre, Fourth Wall Theatre, Portlaoise Musical Society, 65 Kitchen Choir and Portlaoise Panto, to name a few, many of whom return to our stage year after year!
Today and into the future
Dunamaise Arts Centre has become an essential addition to the cultural landscape of County Laois and one of our central missions is to continue to inspire people to discover and love the arts!

We are delighted to continue in our commitment in supporting the arts in Laois in presenting the very best in local, national and international arts practice. We are proud to have been commended over the years as being a model for practice in the promotion of and access to the arts and we are thrilled to play such a significant part in the social, cultural and economic life of the county and among its communities.
The building and our new brand 2023
The building is situated on the site of the Old County Gaol (built in 1789 by Richard Harman, James Gandon's Clerk of Works at the Customs House in Dublin. The stunning façade of the building featured unusual handcarved vermiculation and giant Doric order and is about all that remains of the Old Gaol! See below for some interesting facts about our building's history!
These designs could be imagined as abstract drawings or etchings of dancers, musical notes, foliage or Celtic spirals and inspired our new logo.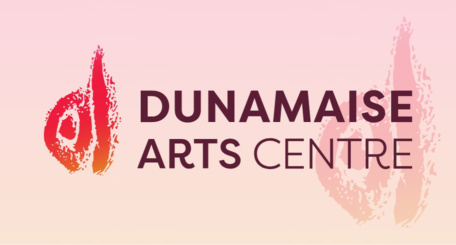 Our new logo symbol, if studied carefully, can be found in the carvings of the stonework on the building's facade. When Penhouse studied the stonework, they were drawn to a section believing it resembled an eye, nicely pairing with a visionary future for Dunamaise, while also resembling the letter 'd', which provided a nice link. We love our new logo and how it is so unique, strong and bold.
During excavation work in turning the building into an arts centre, there were nine skeletons discovered– it was discovered that the bodies were buried before the construction of the courthouse in 1789 and were thought to be associated with an earlier jail and courthouse. It is probable that they were prisoners.
The last person to be executed at old jail was Captain Jeremiah Grant who was hanged in 1916 after he was found guilty of the charge that he "bulgariously and feloniosuly entered a dwelling house with the intent to feloniously steal & against the peace and crown of the King, his crown and dignity".
The Dunamaise Arts Centre was originally funded by the Department of Arts, Heritage, Gaeltacht and the Islands and European Fund, Laois Arts Foundation and Laois County Council.
The design and construction team was lead by Milligan Reside & Larkin Architects and the main contractor was Michael Glennon from M Glennon Ltd.