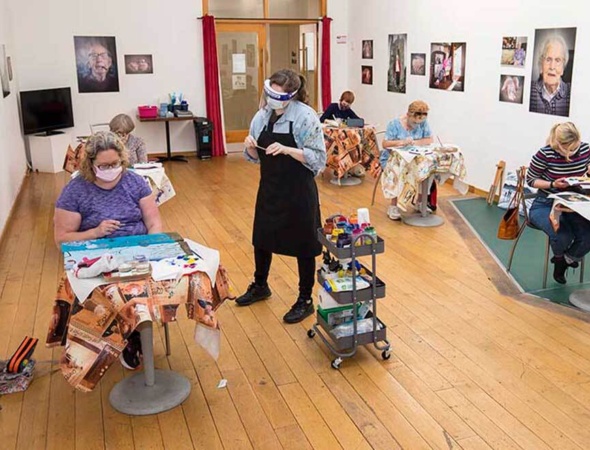 Located in the heart of Portlaoise town centre, Dunamaise Arts Centre offers five event spaces for arts and cultural events, but also for corporate or private hire, that combine the heritage of an historic graded building with the innovative architecture and contemporary art spaces.
We are a multi-disciplinary venue comprising a 240-seat auditorium/theatre, cinema, gallery and café; as well as multi-functional creative spaces and meeting rooms; a professional team of experts is at your service to bring your events and creative ideas to life.
Check out our wonderful spaces…
Our 240 seat auditorium comprises floor level stage and backstage area. A multi-functional space that can be used as a theatre and cinema or for a workshop or recording space for performances, rehearsals, screenings or as an experiential space for artists. It is also ideal for conferences and large meetings or presentations and more – tell us your ideas!
Full audio-visual technical support offered to suit your needs.

An accessible toilet and dressing room is located stage side, with a further suite of backstage facilities upstairs.
Featuring a bright open space, adorned with solid oak wood and glass floors; the gallery situated on our first floor, is crowned with stunning wooden rafters below a glass atrium skylight and accommodates our professional and curated exhibitions. The gallery also functions as a space for artist talks, workshop spaces, meetings, networking events and is also a creative alternative for a beautiful wedding venue or celebratory event. Embed link to gallery plans
Groups and schools are welcome for gallery visits. Book your visit with our Box Office team at info@dunamaise.ie or Tel: 057 8663355.
Meeting Room
Our Gallery is adjoined by a Board Room that can accommodate small private meetings, events or break-out sessions.

Our Mezzanine Bar is located at the first-floor entrance of our auditorium and functions as a bar before events and during intervals. This multi-functional space is also equipped with sound, lighting and audio-visual equipment for smaller performances, presentations, meetings or workshops – let us know your requirements and we can make it happen!

A vibrant café space, that hosts a monthly Artists Showcase Exhibition, offering delicious menus for meals and refreshments throughout the day. Group bookings welcome. Events and meetings catered for.
Full event catering can be offered from our café and bar, from light refreshments throughout the day to full evening meals.