Dunamaise Gallery
Ragged Trousers
Paddy Critchley
22 September - 11 November
Free to visit during opening hours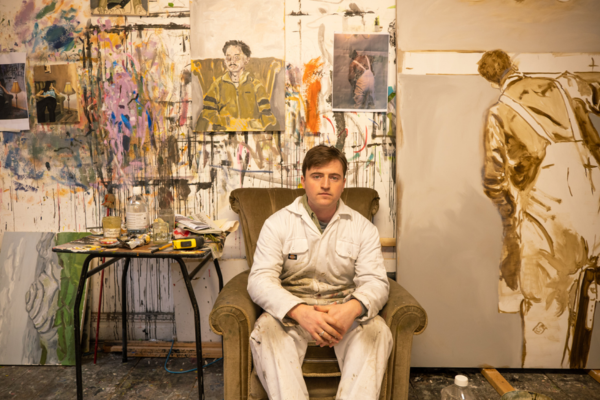 Ragged Trousers is an exhibition of new paintings by Paddy Critchley. The artist is interested in the representation of working-class life and in highlighting common issues facing many people in Ireland today.

Don't miss Paddy Crichley in conversation with Sara Searson on Thursday 26 October, 12pm to hear more about this exhibition. Book your FREE ticket here
The title of the exhibition is borrowed from 'The Ragged Trousered Philanthropists' (1914) by Irish-born house-painter and sign-painter Robert Tressell. The semi-autobiographical novel is considered a seminal text on the exploitation of workers and the daily realities and obstacles they face.

Written over 100 years ago, the novel addresses issues and struggles still relevant today including high rent, cost of living, poverty, and emigration. Also known as the painter's bible, it is a long-standing entry point into socialist narratives and ideologies.

For his exhibition at Dunamaise Arts Centre Gallery, Paddy draws on the conversations between the labourers depicted in the novel. Himself a house-painter, Paddy incorporates elements of the trade within his art practice as well as his own lived experiences.
About the Artist
Paddy Critchley is an artist from Laois, Ireland. Since graduating from Limerick School of Art and Design in 2021, he has exhibited at The Hunt Museum and Limerick City Gallery of Art, where his work was accessioned to the permanent collections, and at Dunamaise Arts Centre.

He was the recipient of the De Veres Art Award for Work of Distinction at the 191st Annual RHA Exhibition for the painting Nature Morte (After Beckett). Paddy also runs the Ballad Sessions in Charlie Malone's Pub in Limerick city, which encourages the sharing of folk music from archives and keeping stories alive.